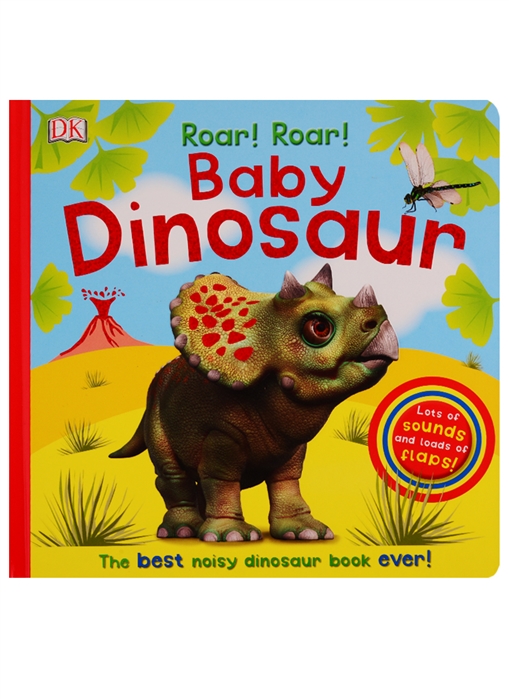 close Бонусная программа.
Итоговая сумма бонусов может отличаться от указанной, если к заказу будут применены скидки.
Цена в интернет-магазине может отличаться от цены в магазинах сети. Оформление книги может не совпадать с представленным на сайте
Смотреть наличие в магазинах
Аннотация
WINNER in both the Best Children's Book and Best Picture Book categories in the Lovedbychildren Awards in 2017, this noisy dinosaurs sound book is perfect for toddlers. Young children will love searching for the cute baby dinosaurs, and hearing their funny noises as they lift 16 exciting flaps, 5 of which set off light-activated sounds. Fun to read aloud, this picture book will immediately appeal to little ones, and they will soon be joining in with the noisy phrases - great for their early reading skills. The picture labels (with pronunciation guides for the dinosaur names) and simple questions provide lots of talking points for parent and child, helping kids find out about prehistoric life in a lively, unique way. A playful, interactive dinosaur board book, Roar! Roar! Baby Dinosaur will appeal to the imagination of preschoolers.
.
Сообщить о неточности в описании
Отзывы
Книга «Baby Dinosaur» есть в наличии в интернет-магазине «Читай-город» по привлекательной цене. Если вы находитесь в Москве, Санкт-Петербурге, Нижнем Новгороде, Казани, Екатеринбурге, Ростове-на-Дону или любом другом регионе России, вы можете оформить заказ на книгу Sirett D. «Baby Dinosaur» и выбрать удобный способ его получения: самовывоз, доставка курьером или отправка почтой. Чтобы покупать книги вам было ещё приятнее, мы регулярно проводим акции и конкурсы.