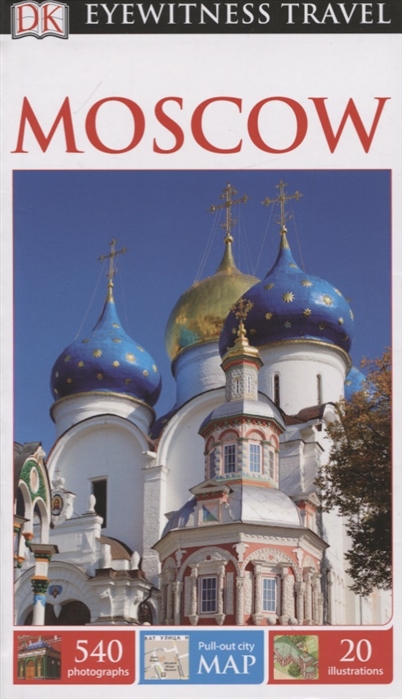 close Бонусная программа.
Итоговая сумма бонусов может отличаться от указанной, если к заказу будут применены скидки.
Цена в интернет-магазине может отличаться от цены в магазинах сети. Оформление книги может не совпадать с представленным на сайте
Смотреть наличие в магазинах
Художник
Conlin St., Draper R., Gyapay St. И др.
Аннотация
The ideal travel companion, full of insider advice on what to see and do, plus detailed itineraries and comprehensive maps for exploring this historic country.Explore Moscow's revolutionary past at the Red Square and Lenin's Mausoleum, marvel at the royal treasures inside the State Armoury or admire the iconic onion domes of St Basil's Cathedral: everything you need to know is clearly laid out within colour-coded chapters. Discover the best of Moscow with this indispensable travel guide.Inside DK Eyewitness Travel Guide Moscow:- Over 25 colour maps, including a large-scale pull-out map of the city and a transport map, help you navigate with ease- Simple layout makes it easy to find the information you need- Comprehensive tours and itineraries of Moscow, designed for every interest and budget- Illustrations and floorplans show in detail the Cathedral of the Assumption, State Armoury, Pushkin State Museum of Fine Arts, Bolshoi Theatre, St Basil's Cathedral and more- Colour photographs of Moscow's magnificent palaces and cathedrals, mansions and municipal buildings, Communist landmarks, and more- Detailed chapters, with area maps, cover the Kremlin, Arbatskaya, Tverskaya, Red Square and Kitay Gorod, Zamoskvoreche, and sights beyond the city centre - Historical and cultural context gives you a richer travel experience: learn about Moscow's chequered history, including the Russian Revolution and Stalin years, iconic architecture, impressively opulent metro stations, fascinating museums, festivals and events, and more- Essential travel tips: our expert choices of where to stay, eat, shop and sightsee, plus useful phrases, transport, visa and health information.DK Eyewitness Travel Guide Moscow is a detailed, easy-to-use guide designed to help you get the most from your visit to Moscow.
.
Сообщить о неточности в описании
Отзывы
Книга «Moscow (+map)» есть в наличии в интернет-магазине «Читай-город» по привлекательной цене. Если вы находитесь в Москве, Санкт-Петербурге, Нижнем Новгороде, Казани, Екатеринбурге, Ростове-на-Дону или любом другом регионе России, вы можете оформить заказ на книгу Rice Ch., Rice M. «Moscow (+map)» и выбрать удобный способ его получения: самовывоз, доставка курьером или отправка почтой. Чтобы покупать книги вам было ещё приятнее, мы регулярно проводим акции и конкурсы.