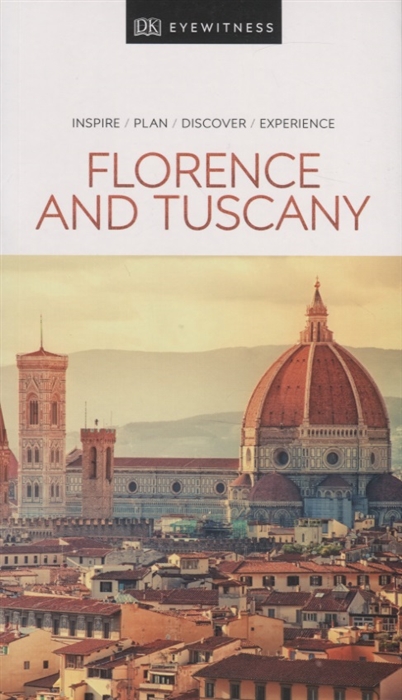 close Бонусная программа.
Итоговая сумма бонусов может отличаться от указанной, если к заказу будут применены скидки.
Цена в интернет-магазине может отличаться от цены в магазинах сети. Оформление книги может не совпадать с представленным на сайте
Смотреть наличие в магазинах
Тип обложки
Мягкая бумажная
Аннотация
Discover Florence and Tuscany with this essential travel guide, designed to help you create your own unique trip and to transport you to this beautiful region before you've even packed your case - visit Michelangelo's David at the Galleria dell'Accademia, marvel at Siena's tiger-striped Duomo, or enjoy superb food and wine in the villages and estates of Chianti. The DK Eyewitness Guide to Florence and Tuscany covers the must-see sights and the hidden backstreets, so you won't miss a thing.- Gorgeous, all-new colour photography so you can imagine yourself there- Reasons to love Florence and Tuscany: Renaissance art, picture-perfect towns, mouth-watering food and drink - what will yours be?- See Florence and Tuscany from a different angle- 26 pages of fresh ideas for exploring this spectacular region- A year-long calendar of events in Florence and Tuscany gives a selection of local celebrations and festivals for all seasons- Expert advice covers the practical stuff: get ready, get around and stay safe- Detailed, colour maps help you navigate the country with ease- Expert tips to make memories that last - where to snap and share the perfect photo, take in stunning views and escape the crowds- The most authentic places to stay, eat, drink and shop- Easy-to-follow walks and itineraries take you on a tour of each area, with plenty of eat and drink stops en route- Hand-drawn illustrations show the inside of the must-see attractions, including Florence's Duomo, Santa Maria Novella and the Leaning Tower of Pisa- Covers Florence: Around the Duomo, Around Santa Croce, Around San Lorenzo, Oltrarno; North East Tuscany; Central Tuscany; South East Tuscany; North West Tuscany; South West Tuscany.DK Eyewitness Travel Guide Florence and Tuscany is a detailed, easy-to-use guide designed to help you create your own unique trip.
Сообщить о неточности в описании
Отзывы
Книга «Florence and Tuscany + карта» есть в наличии в интернет-магазине «Читай-город» по привлекательной цене. Если вы находитесь в Москве, Санкт-Петербурге, Нижнем Новгороде, Казани, Екатеринбурге, Ростове-на-Дону или любом другом регионе России, вы можете оформить заказ на книгу Lane S., Catling Ch., Brierley A., Fisher K. и др. «Florence and Tuscany + карта» и выбрать удобный способ его получения: самовывоз, доставка курьером или отправка почтой. Чтобы покупать книги вам было ещё приятнее, мы регулярно проводим акции и конкурсы.